Dominik Bokk– RW | 1st Rd, Pick 25 in 2018
6'2″, 180
47 GP | 8 G | 15 A | 23 P
Draftin Europe called him a "highly talented winger with one-on-one ability, quick hands, and creative passing. Can challenge goalies with his shot as well." One-on-one ability is an understatement. Bokk is a human highlight reel on skates with the talent to dangle through every player on the ice twice. With limited ice time on the Vaxjo Lakers this season, his trade to Rogle should prove to be helpful in his development.
Klim Kostin– C/W | 1st Rd, Pick 31 in 2017
6'3″, 212
66 GP | 10 G | 14 A | 24 P
With a long powerful stride like Parayko and a thick, muscular frame to match, Kostin has every making of a future NHLer. After a frustrating year with the San Antonio Rampage that ended at a +/- of -28 and leading the team in penalty minutes (102), look for Kostin to fine tune his defensive game and discipline this week.
Alexey Toropchenko-  RW | 4th Rd, Pick 113 in 2017
6'3″, 201
62 GP | 17 G | 26 A | 43 P
In my eyes, not many of the Blues prospects increased their stock much like Tropchenko this year. The OHL champions Guelph Storm were driven by the talent of Nick Suzuki all season long, but Toropchenko was a man on fire during the playoffs including a game that saw him score a hat trick in the 1st period alone. He finished the OHL playoffs with a 13 G | 6 A | 19 P  stat line.
Mathias Laferriere-  RW | 6th Rd, Pick 169 in 2018
6'2″, 192
68 GP | 28 G | 46 A | 74 P
Laferriere was a catalyst for the Cape Breton Screaming Eagles this season. With a highly accurate wrist shot and plus play making ability, the Blues may have stolen another late round gem that's even surprised himself with his production this year.
Mitchell Balmas-  LW | Undrafted invitee
6'0″, 192
64 GP | 43 G | 39 A | 82 P
After his invite to the Philadelphia Flyers training camp last year, Mitchell Balmas had a career year for the Screaming Eagles alongside Blues prospect Mathias Laferriere who seemed to be the set up man and Balmas the finisher. Drafted 7th overall in the 2014 QMJHL Draft, the high level skill set of Balmas could finally be coming to fruition.
Scott Perunovich-  D | 2nd Rd, Pick 45 in 2018
5'9″, 170
39 GP | 3 G | 26 A | 29 P
Outside of San Antonio Rampage defenseman Mitch Reinke, Perunovich is 2nd in line for the best defensive prospect in the Blues' system. After his world beating rookie campaign which awarded him the Tim Taylor award (Most Outstanding Freshman) and the Rookie of the Year, Perunovich saw opponents ay a lot more attention to him this season. With a more talented supporting cast surrounding him at camp, he'll look to prove to critics that small, fast, and offensive oriented d-men are the new wave. Two time All American and two time NCHC Offensive defenseman of the year.
Tyler Tucker-  D | 7th Rd, Pick 200 in 2018
6'1″, 203
68 GP | 14 G | 45 A | 59 P
Tucker made some noteworthy offensive plays with the puck at last year's Prospect Camp, but no one was prepared for a 7th round defenseman to put up 59 points last season. The only player on the Barrie Colts that had more points than him was Ryan Suzuki who was just drafted by the Hurricanes with the 28th pick overall in this year's draft.
Hugh McGing-  LW | 5th Rd, Pick 138 in 2018
5'8″, 168
37 GP | 16 G |14 A | 30 P
When Panger talks about "little guys with gumption", McGing epitomizes that phrase perfectly. Quick, agile skater with an impressive shot and sound defensive stick. Does all the little things and, won't overwhelm you with his offensive prowess or physicality, but is a solid two way player that takes pride in his work ethic.
Kevin Hancock-  LW | Undrafted invitee
5'11", 181
70 GP | 52 G | 55 A | 107 P
Hancock was, arguably, the most productive player on the London Knights after he was acquired from the Owen Sound Attack. With a whopping 107 points on the season, Hancock finished 5th in the entire OHL in scoring just behind Philadelphia Flyers top prospect Morgan Frost.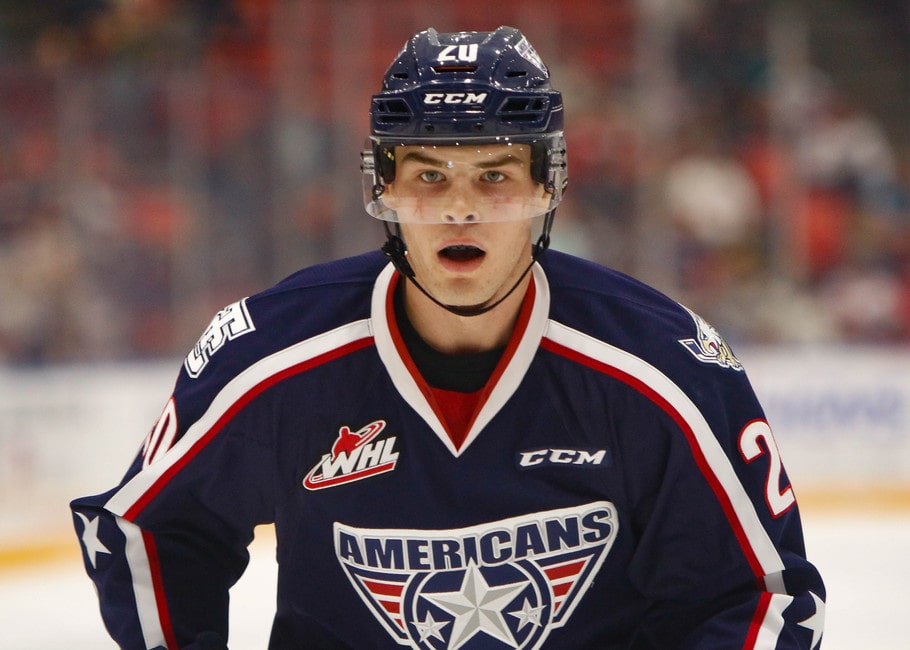 Krystof Hrabik–  C | Undrafted invitee
6'4″, 209
63 GP | 21 G | 30 A | 51 P
Qualifying for this year's draft, Hrabik fell through the rounds and went undrafted. Armstrong must have liked what he saw, however, and extended him an invite to camp. Very similar play style to Tage Thompson. Big body, smooth skater, won't overwhelm you with his speed, but he's got sneak soft mitts and a shot that'll rattle the cage.
Joel Hofer-  G | 4th Rd, Pick 107 in 2018
6'4″, 161
Swift Current Broncos-  30 GP | 4.02 GAA | .904 SV %
Portland Winterhawks- 18 GP | 3.18 GAA | .911 SV %
Although his statistics aren't anything other worldly, Hofer's positioning and quick reflexes make him a very promising prospect. At the ripe age of 18 surrounded by developmental coaches, hes got plenty of time to mold into his final form.
Nikita Alexandrov- C | 2nd Rd, Pick 62 in 2019
6'0″, 179
64 GP | 27 G | 34 A | 61 P
Alexandrov is an extremely talented two way player who's shot is already light years above his age level. Finishing his season second on the Charlottetown Islanders in points, as well as second in +/- with a +24 rating, you can estimate the kind of player the 18 year old. Born in Germany and after playing against fellow prospect Dominik Bokk multiple times, look for those two to establish chemistry on and off the ice this week.